Charging at Home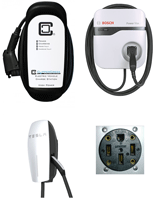 Most EV owners will want to install a dedicated 240V electrical circuit to charge their cars. This will typically give you from 20 to 30 miles of added charge per hour which is enough for a full charge overnight. It is recommended that you install a dedicated EVSE to charge your EV.
Briefly, an EVSE is a box that hangs on your wall wired to a 240V breaker in your electrical panel and has a handle that plugs into your car. All North American EVSEs and EVs use the same standard (J1772) so any EVSE will work with your car. Teslas use a proprietary charge plug, see below.
Different EVs accept different charge rates, but the industry is slowly converging on EVs accepting approximately a maximum of 32A or 48A of charge. For new installations, install an EVSE that can supply at least 32A on a 40A breaker. Even if your EV can't charge that fast (most newer ones can), you are future proofing yourself for your next EV. For larger EVs (like trucks), I'd recommend at least a 48A EVSE on a 60A breaker.
Teslas are (a bit) different

While all Tesla cars are compatible with J1772 plugs through a small and simple adapter, they natively support a Tesla proprietary car charging plug.
So, while you can charge a Tesla with a J1772 compatible EVSE just fine, it is more convenient to use Tesla's EVSE since you don't need to use the adapter. Luckily, Tesla's EVSE (called the Wall Connector, available at the Tesla store), is priced competitively and is very capable.
Teslas are also different because they come with a very capable Mobile Connector. The Mobile Connector comes with interchangeable plug adapters allowing you to charge from household 120V receptacles all the way to 50A NEMA 14-50 240V receptacles. Click here for to see these adpters.
Instead of installing a permanent EVSE, a lot of Tesla owners just install a 50A NEMA 14-50 receptacle and use their Mobile Connector to charge their car. I recommend that people not do this and to purchase the Tesla Wall Connector instead, leaving the Mobile Connector in the car's trunk. This ensures you won't forget the Mobile Connector when going on a trip, and the Wall Connector is a much more robust EVSE meant for daily charging use.
Charging Faults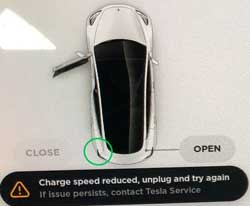 Sometimes you will have a problem charging at home. Your car will usually notify you when it detects a charging problem. You can also tell if there is a problem by feeling the receptacle plug. It may be warm, but it shouldn't be hot to the point where it is uncomfortable to hold your hand there.
Usually a charging fault means that there is a problem with your receptacle. Most applicances do not put much of a strain on receptacles, but EVs push receptacles near their design limits, so if there is any fault in them, an EV will show it.
If you suspect a receptacle problem, the easiest and quickest thing to do is to replace the receptacle. This is a quick job for an electrician, or if you are handy, you can do it yourself. Click here for a video that shows you how to replace an old NEMA 10-30, 3 prong dryer receptacle.