Adapters For Tesla/NACS EVs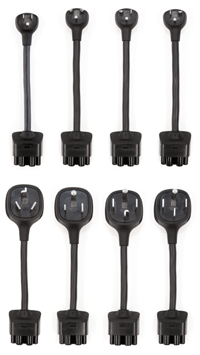 You can purchase a very capable Mobile Connector for Teslas that supports a wide range of plug in adapters for eight different electric plugs. While the Mobile Connector comes with an adapter for a 15A household receptacle, you can buy other adapters from Tesla for many other receptacles. You can also buy adapters from EVSE Adapters for many other kinds of plugs (like a NEMA 6-30, TT-30 or locking plugs).
Extension Cords
One problem with the Tesla Mobile Connector is that it is only 20' long, and your receptacles could be farther away, especially if you are charging on the road in a random rented house or condo and are trying to reach a dryer receptacle.
You have two choices. You can buy an extension cord for the household plug side, in which case you need a specific extension cord for every type of plug you want to extend. Or you can now purchase an extension cord for the Tesla plug end, in which case it becomes a universal extension cord for any type of plug that your Tesla Mobile Connector supports.
For the latter, Lectron makes a highly rated 20' Tesla plug extension cord, giving you 40' in total of cord length.
If all you need is a single extension cord for a known destination plug, here are some links:
For a NEMA 14-30 (modern house dryer plug), I would just use the 14-50 extension cord above and saw off the neutral blade (straight blade opposite of the round ground) since the neutral is not used for car charging. This allows it to plug into either a 14-30 or 14-50 receptacle. Just remember to dial back the amps to 24 amps when using a 14-30 receptacle.
---
Charging FAQs
Adapters
Resources