Mobile EVSE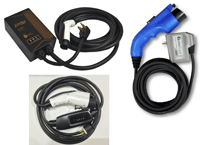 A Mobile EVSE is just like a regular EVSE that you install in your house, except that you can take it with you in your car. This allows you to charge at your destination when taking a long trip.
At a minimum, a mobile EVSE allows you to plug into a regular household 120V receptacle. Over 16 hours of overnight charging, you could get 48 miles of range this way. But as the Destination article shows, there are potentially a lot of other higher power receptacles you could plug into including receptacles for an electric dryer, an air conditioner, a stove, an RV hookup, or a welder plug (the Receptacle Identification page shows what the receptacles look like).
Here's how fast you can charge using various receptacles (typical values, charge time depends on your EV, exact voltage, etc.):
| Receptacle | Volts/Amps | Typical Miles/Hr | Miles over 16 hours |
| --- | --- | --- | --- |
| Household receptacle | 120V/15A | 3 | 48 |
| 20A Household receptacle | 120V/20A | 5 | 80 |
| 30A RV (TT-30 receptacle) | 120V/30A | 7 | 112 |
| 20A NEMA 6-20 (AC, Table Saw) | 240V/20A | 10 | 160 |
| 30A Dryer | 240V/30A | 15 | 240 |
| 50A (RV or Welder) | 240V/50A | 25 | 400 |
Following is a list of capable mobile EVSEs that will allow you to charge on any receptacle.
ZenCar Mobile EVSE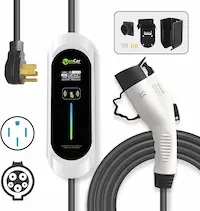 EVSEAdapters has a nice small capable mobile EVSE. It can charge at both 120V and 240V, from 12A all the way to 40A. You can then buy various adapters (and/or make or buy other adapters), and you'll have a very capable mobile EVSE. Plus, it's pretty inexpensive too. Just remember to set it at the appropriate amperage when charging.
Grizzl-E Mini EVSE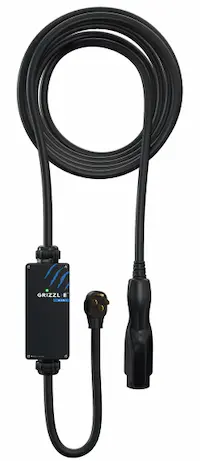 Grizzl-E sells a small mobile EVSE that comes with five different plugs: 14-50, 6-50, 14-30, TT-30 and a 5-15 household plug. It can charge at both 120V and 240V, from 7A all the way to 40A. You can also make or buy other adapters. Remember to set it at the appropriate amperage when charging.
Tesla Mobile Connector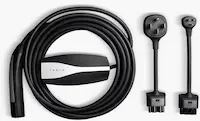 Tesla makes a very inexpensive and capable mobile EVSE. If you own a Tesla, you should definately always have one of these in your frunk/trunk. For other EVs, you can still use this if you buy a Tesla to J1772 adapter (see below).
The nice thing about the Tesla mobile EVSE (they call it a Mobile Connector) is that it has detachable plugs so you can plug directly into a dryer receptacle, or any 120V or 240V receptacle and the unit automatically will set the amperage draw to the correct value for the type of plug you are using. The Tesla Mobile Connector comes with a 15A/120V plug and a 50A/240V plug, but you can buy others at $35 each (again, cheaper than other types of plug adapters).
For non-Teslas, here are three Tesla to J1772 adapters you can buy to make the Tesla Mobile Connector work with your car (buy one, they all do the same thing):