EVSE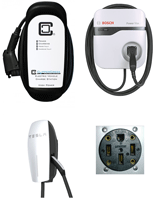 An Electric Vehicle Supply Equipment (EVSE) is a box that supplies electricity to an Electric Vehicle (EV). Almost all EVs natively support the same J1772 standard for charging, and thus all commercial EVSEs also support that standard (see sidebar for Teslas). The EVSE does several things:
First, it has a cord and a standardized plug/handle for connecting to the EV.
Second, it provides safety features. The EVSE handle will not energize with the high power needed to charge the car unless its low power control pins detect that it is firmly plugged into a car.
Third, the EVSE tells the car how much power it can give the car. That way the car won't try to draw more power than the electrical breaker the EVSE is connected to can handle.
As a new EV owner, you typically need to buy and install your own EVSE in your garage, or outdoors where you park your car (EVSEs typically are outdoor rated, but check this if yours will be installed outdoors).
EVSEs can be bought from many places including Amazon, and Home Depot. Things to look for in a EVSE include:
How much power can it deliver. Newer EVs seem to be standardizing on 32A (at 240V) of delivered current, while bigger EVs (trucks) can charge at 48A or even higher. Even if your EV can't charge this fast, I would buy an EVSE that can charge at least at 32A (or 48A) for new installs (future proof).
Reliability, certifications, etc. Below I list some established brands.
Wifi connectivity. Some people like to track electricity usage, compile stats, etc. Personally, I treat my EVSE like my smartphone charger - plug it in and forget it.
Load sharing. Some EVSEs can be connected together to a common electrical circuit and shared between more than one EV. This reduces overall wiring and cost if you have multiple EVs and may be required if you are bumping up against total load capacity of your house/panel.
Most people opt to hire an electrician to install an EVSE. The electrician will install the appropriate two pole breaker (usually a 40A breaker for a 32A EVSE, or 60A breaker for a 48A EVSE), route the appropriate sized wire and/or conduit, and connect it to where you want to install your EVSE. To install an EVSE yourself, check out this DIY EVSE Install page.
Once the EVSE is installed, using it is very simple. Just plug it into your EVs. There is no need for on/off switches or any other control to charge your car. Check the sidebar about setting up time of use settings in your EV.
Here are some good quality EVSE manufacturers along with some personal opinion and commentary: