Charging on the Road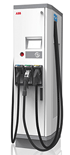 When your trip length is longer than your EV's range, you need to recharge while driving. In practice, this means recharging at a "DC Fast Charging Station". Since a regular public charging station will only give you about 20 miles of range per hour of charging, this usually won't be useful. A 50 kW DC Fast Charger will typically give you 140 miles of range per hour of charging, so a well timed lunch break will set up you up for the next leg of your trip.
There are three types of DC Fast Chargers in the US and Canada, but your EV will only support one of them (Tesla models S, X and 3 support two).
CHAdeMO is supported by Japanese EVs and Teslas ( via an adapter).
CCS is supported by European and domestic EVs (except Tesla).
Finally, the Tesla Supercharger is only supported by Tesla model S, X and 3 cars. Superchargers deliver more power, so they typically deliver around 200 miles or more of charge in an hour.
Regardless of which Fast Charging standard your car can support, you must make sure your car is equipped with Fast Charging as it is often an extra cost option.
Charging Network Membership

DC Fast Charging stations typically require membership in some sort of payment plan. Use PlugShare to find out which payment plans you need for the Fast Chargers along your route.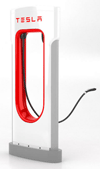 Tesla owners either have free unlimited for life Supercharging, or automatic membership into their pay-as-you-go plan once you use a certain number of charges per year.
Here are some links to common charging networks: ChargePoint, EvGo, Blink, Greenlots.
Car Tripping Guides
There are several quick one page guides that have been written on how to minimize your charge time while on the road. Here are some EV specific ones: